Dining
[frame align="left"]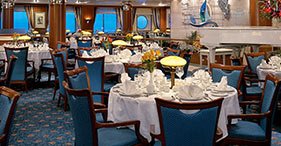 [/frame]
Crossings Dining Room
Prepare for a host of complimentary culinary delights at Crossing, where you can enjoy expertly prepared Chef's Signature Dishes and an extensive daily changing menu of deliciously fresh flavors. All inside a beautiful room featuring impressive ocean views.
[frame align="left"]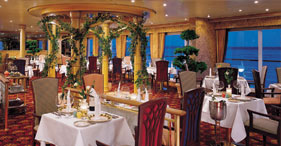 [/frame]
Cagney's Steakhouse
Steak is the standard at our American-style steakhouse. Sip your favorite cocktail as you select from choice cuts of Certified Angus Beef® perfectly prepared. And don't forget to order our famous truffle fries.
Price Per Person: $30 Adults | $15 Children